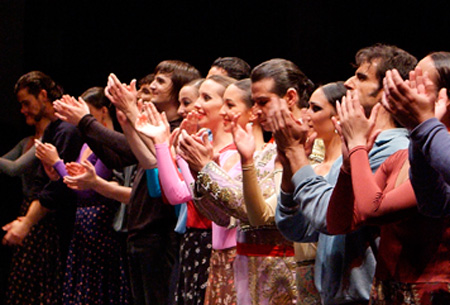 "There were five of us in my first company, in 1963, and in the last one I formed, thirty-six".
"My first company had two dancers, a dancer, a guitarist, a singer and we debuted in Barcelona, where I had a lot of success at a flamenco tablao called Los Tarantos". Thirty years later, in 1994, he premiered Fuenteovejuna in Genoa with a company with thirty-six members.
And all without official help of any kind. Gades was always proud of never having received any type of aid. Whenever he needed help it came from his own effort, living intensely and with dignity. He valued the sense of freedom, and how expensive it was to be free, but that freedom was what allowed his company to dance what they wanted, with whom they wanted, and where they wanted.
Gades was convinced that it shouldn't be the artists who should worry about what a Ministry of Culture does, but the politician who should differentiate between who creates culture and who does not. It is they who must pay attention to artistic realities and act in consequence.
Antonio, the company director, had a seemingly bad temper; he was tough when he was working, but also on himself. It was how he worked. "Yes, it's true that I would get angry, but when I ask for something, I ask it because I know they can give it. If not, they can give their spot to someone else. You have to give it your all. You can't go to battle and spend it hiding in the trees". He knew that if the work is done with dignity and honesty and was first-rate, it would be something that any audience could appreciate.
In Antonio's opinion, one of the reasons why his company was always so successful was because it was a humanized group where everyone had the right to dance. It went against the widespread opinion that you had to be young, handsome, tall and slender to dance. "Dance uses movement to express an emotion and anyone can do it". He thought it was more important to understand why one dances a certain dance, than to know how to dance.
The way that Gades and his company dance is a vital thing, it belongs to the people, it is the dance of a culture. All the members are beings who feel and interpret mood through dance, and what they do is anything but unemotional.
For Antonio, dancers, guitarists and singers are people who have a sensibility they use beyond dancing, playing and singing. All members of Gades's companies are ordinary people, and aren't necessarily handsome and thin, because that helps the audience connect with the show, humanizing the art. "I don't choose dancers because they dance the best, but rather because they're believable".
Although the motto he perhaps followed most to the letter was a commitment to work. "I'm usually really tough on people who do less than their best. But let it be said that I impose a discipline, not a dictatorship".
His work method was also based on the fact that he didn't want to exhaust the dancers before the performances. "I asked them not to place any emotional burden on themselves, because I need that emotion during the performance, on stage".
He made every member of his companies feel like cells in the same body, each one with a job to do, which no one could leave. "This is like a machine, if a part is missing, the entire thing stops working".
He was proud that his was a group of hard workers, not divas and divos. "And if our work provokes an emotional response, we've managed to make art. But once we leave the theater we go out for a drink, and nobody discusses that night's work. By not talk about it, art keeps from becoming something unhealthy".
The tireless worker who was Antonio Gades and his rigid discipline with the members of his companies are summarized perfectly in a few words they heard on more than one occasion: "There were never any photos of our triumphant nights hanging in our studio, just 80% sweat and 20% held-back tears, so intense was the act of creation".